There are a number of legal requirements (Carriage of Dangerous Goods Act, Use of Transportable Pressure Equipment Regulations 2009 and ADR 2009) that require companies involved in the carriage of hazardous goods by road, rail, air or sea to provide training for all personnel involved in the process.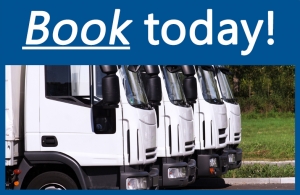 Who should attend?
There is a popular misconception that only drivers require training in relation to dangerous goods, however all personnel whose duties are involved in any way with the carriage of dangerous goods by road, air or sea must undergo training to ensure they fully understand their responsibilities and duties.
Warehouse packers and loaders, forklift truck drivers and the van driver who delivers only small amounts of dangerous goods should all have training to ensure that they can identify the hazards associated with the products that they are handling, but also know what to do if things go wrong.
Course topics
We have expert knowledge to tailor our courses to meet a customer's exact requirements, and our courses include:
Hazard classes
UN Numbers and packing groups
PPE and transport requirements
What to do in an emergency
Dealing with spillages and environmental contaminants
The course also includes an introduction to dangerous goods security.
Course delivery
All courses are delivered by our own registered ADR instructors and can be delivered to suit your staff availability and shift patterns.
Certificate
A certificate is awarded to each successful delegate to add to their training records. We recommend that refresher training is undertaken every 5 years in line with other mandatory ADR training.
Book Today – ADR Awareness
Carmichael Training are here to help you with ADR Awareness. Getting the right qualification is a must for certain jobs and we are on hand to help inform you of every aspect.
We take pride in using our knowledge and expertise on ADR Awareness and look forward to hearing from you.