Nearly a quarter of all deaths involving vehicles at work occur while the vehicle is reversing.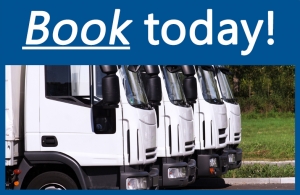 Our Banksman training course helps reduce the risk of costly accidents when carrying out common, but dangerous, reversing manoeuvres. The course includes the safe passage of reversing vehicles in confined spaces and identification of areas of danger within sites.
Who should attend?
Any person responsible for assisting in the manoeuvring and loading/unloading of vehicles.

Course topics
This course aims to raise awareness of the dangers caused when large vehicles reverse, and introduces practical techniques and hand signals to assist drivers with this manoeuvre. Delegates will also be trained in the necessary skills to assist other drivers and banksmen.
By the end of the course, delegates should be able to:
Ensure the safe passage of reversing vehicles in confined spaces
Identify areas of danger within the site
Demonstrate HSE's recommended code of signals
Guide large goods vehicles, both rigid and articulated, using the above code of signals to HSE
Guide Notes HSG136 standard
Course duration and delivery
1 day delivered here at our state-of-the-art training facilities.
Book Today – Banksman Training
Carmichael Training are here to help you with Banksman Training. Getting the right qualification is a must for certain jobs and we are on hand to help inform you of every aspect.
We take pride in using our knowledge and expertise on Banksman Training and look forward to hearing from you.